Skip to Content
Comprehensive Fitness Center
In Colorado Springs
Our fitness facility offers more than 60 classes each month ranging from yoga and spin to Pilates and the club's signature, CrossFit-inspired circuit series. Members also have their choice of 30 LifeFitness cardiovascular machines, strength machines and free weights. Men's and women's locker rooms each feature showers and steam rooms.
Fitness Center Hours
Monday – Friday: 5:00 am – 8:00 pm
Saturday – Sunday: 7:00 am – 7:00 pm
No person under the age of 16 allowed in the gym. 
man running on a treadmill in the gym
Features & Amenities
Multi-tier workout room featuring state-of-the-art Life Fitness cardio equipment and free weights
Treadmills, ellipticals, stair machines, recumbent and upright bikes surround our group exercise floor
Private outdoor lounging patio
Two training studio rooms for yoga, Pilates, spin classes, and more
2018 fitness room 2 frank modarelli_edited
Group Classes
Group fitness classes are available, including Yoga, Spin, Aqua Aerobics, PilatesMAT, Ease into Fitness, and more.
View this month's schedule or call 719.538.4615 to confirm classes.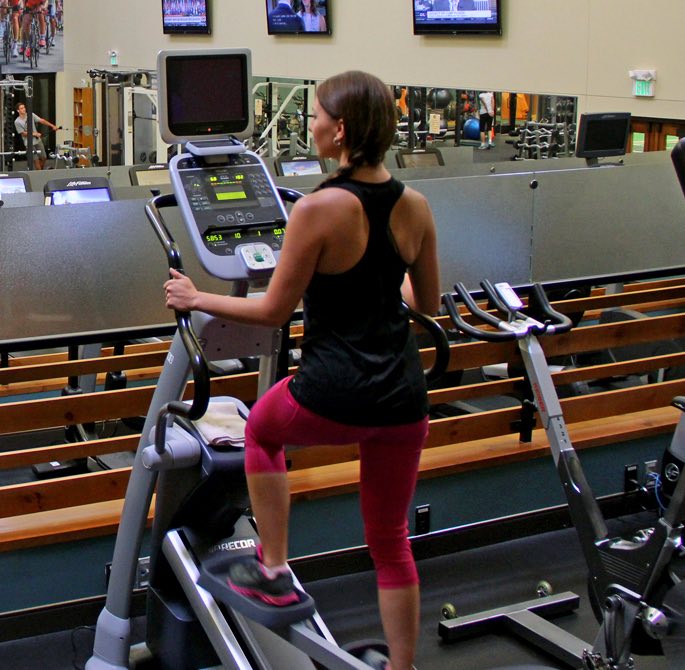 woman walking on a stair stepper in the gym
Personal Training
With a certified trainer at your side, you can realize your fitness goals much faster and more effectively. We'll take the guesswork out of your routine and help you get the results you deserve.
Inquire about a training session