Skip to Content
HAVING FUN: COLORADO RESORT STYLE
Cheyenne Mountain Resort features a range of year-round recreational activities: swimming, golf, tennis, basketball, volleyball, and a full-service workout center. And there's Alluvia Spa and Wellness Retreat after an active day of fun.
Take A Swim
The Cheyenne Mountain Resort offers 5 pools, jacuzzis, a beachfront lake, and aqua cardio classes for resort guests looking to develop swimming skills or participate in a low-impact workout. Whether it's play time, swim time, or workout time, our Resort gives guests ample reasons to jump in. Access to all pools are permitted to hotel guests as part of your room booking!
FACILITIES
Heated Resort Pool and Hot Tub (at the main lodge) — open year-round
State-of-the-Art Indoor Pool Facility with 25-yard pool— open year-round
50-Meter Outdoor Olympic-Sized Pool — seasonal
Adults-Only Private Pool and Hot Tub — seasonal
Kiddie Pool and Kids Splash Pad — seasonal
HOURS OF OPERATION
Aquatics Center Recreation Swimming
Monday-Friday: 10:00 am – 7:00 pm
Saturday-Sunday: 10:00 am – 7:00 pm
Lap Swimming ONLY
Monday-Friday: 5:30 am – 10:00 am
Saturday-Sunday: 7:00 am – 10:00 am
Resort Pool
Monday-Sunday: 8:00 am - 10:00 pm
All Pools & Beach are Weather Permitting
Aquatics Center Phone Number: (719) 538-4087
Lake & Beach
HANG BY THE LAKE
Come Hang by the Lake! Make sandcastles, play beach volleyball, or go pedal boating on our 35-acre lake.
Using pedal boats are including in the stay of all resort guests!
Please note, that boat usage is seasonal to the Summer only.
Stay Active
Get your game on by playing at our diverse sports facilities. When you book your room at Cheyenne Mountain Resort you gain access to all of them.*
HIT THE TENNIS COURT
Practice your serve on one of 10 courts, including 5 indoor and 5 outdoor courts, and 8 brand-new permanent pickleball courts!
The Cheyenne Mountain Resort offers the most expansive collection of outdoor, indoor, and pickleball courts catering from traditional tennis play to all-new racket games for all age and skill levels.
Tennis Center Hours
Saturday – Sunday: 7:00 am – 7:00 pm
Monday – Thursday: 5:00 am – 9:00 pm
Friday: 5:00 am - 8:00 pm
Tennis/Pickleball Court Availability Starts at 6:30 am Daily
Resort Guests are welcome to book times at any of our outdoor courts for free!
*Reservations in the Tennis Barn or Climate Controlled Indoor Tennis Bubble are available at an extra charge.
Call to book your space! (719) 538-4085


Play Beach Volleyball
Enjoy a pickup game of volleyball on one of our two lakeside sand courts.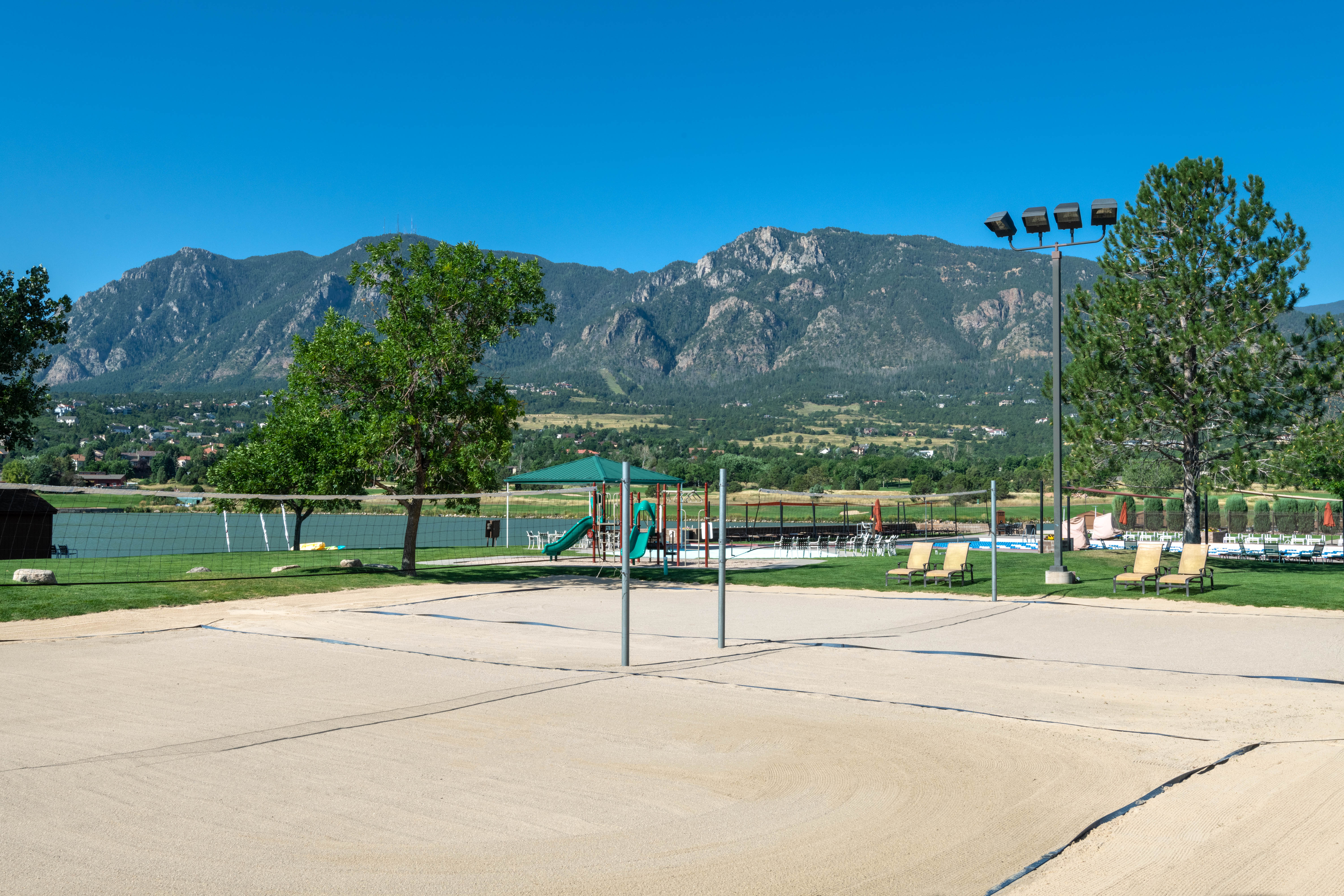 SHOOT SOME HOOPS
Shoot some hoops and work on your swoosh on one of two outdoor basketball courts.
Our courts are versatile for playing soccer as well!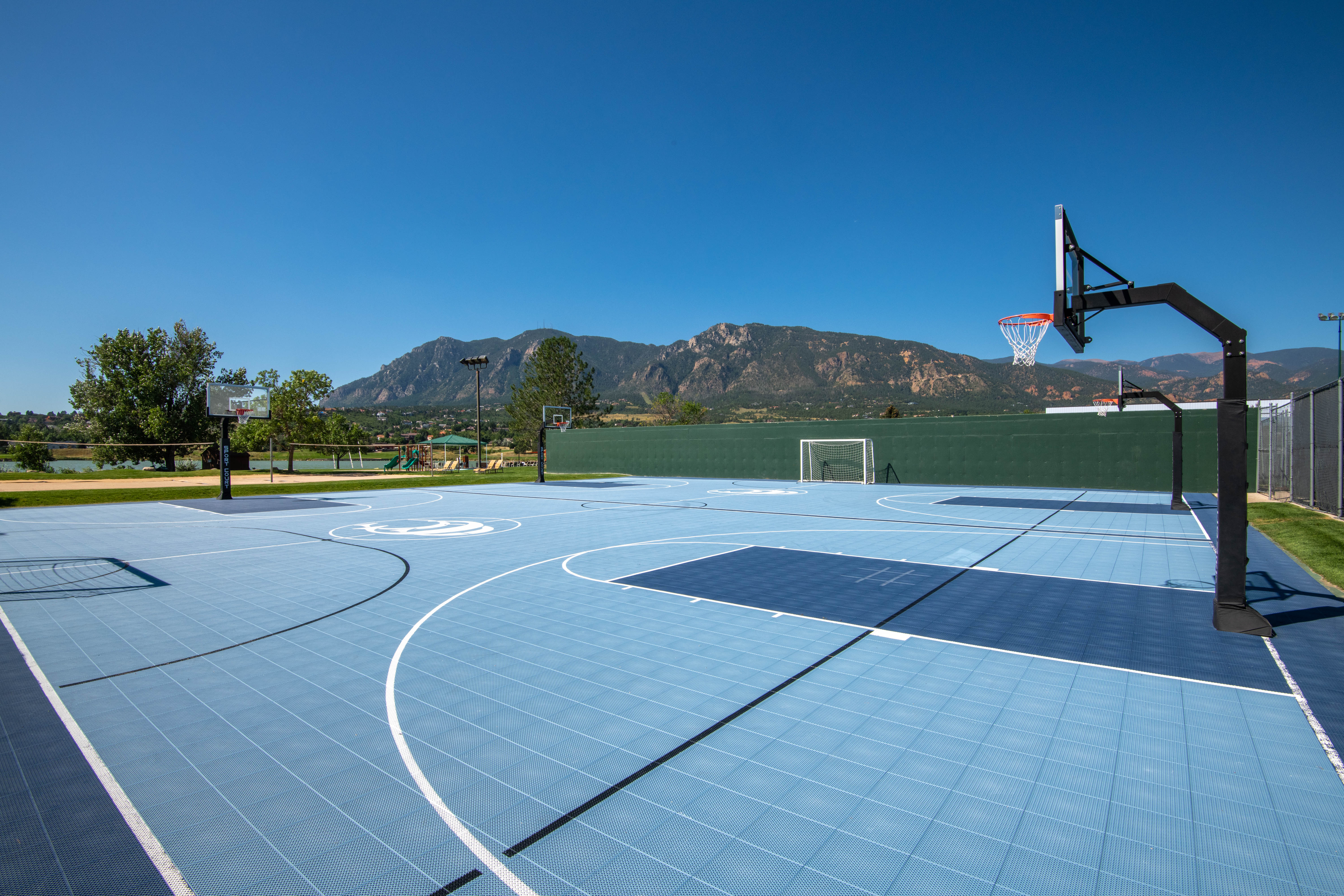 Golf
PLAY A ROUND OF GOLF
Surround yourself with the stunning Colorado Rockies while playing our 18-hole championship Pete Dye course, putting green and range.
Fitness
GET A WORKOUT
Our fitness facility offers more than 60 classes each month ranging from yoga and spin, to Pilates, to signature CrossFit-inspired circuit series. Resort Guests also have their choice of 30 LifeFitness cardiovascular machines, strength machines, and free weights. Men's and women's locker rooms each feature hot tubs and steam rooms.
Fitness Center Hours
Saturday – Sunday: 7:00 am - 7:00 pm
Monday – Thursday: 5:00 am - 9:00 pm
Friday: 5:00 am - 8:00 pm
Call (719) 538-4085 to sign up for a class or for more information.
No person under the age of 16 allowed in the gym unless they are Junior Fitness
Childcare You Can Trust
Childcare at the Kids Corner, located conveniently in the Fitness Center, is available for Resort Guests at only $5 per child per hour.
Kids Corner is open Monday-Saturday from 8:00am - 1:00pm
Children aged 6 months to 7 years are welcome, but Kids Corner WILL NOT change diapers or feed children.
Reservations are Encouraged and must be made 72 hours prior to the child's arrival. Walk-ins available on a space-available basis only. By making a reservation, you agree to the policies below.
Childcare at the Kids Corner is complimentary for Country Club members.
Spa
RELAX AT THE SPA
Refresh, unwind and renew at Cheyenne Mountain Resort's Alluvia Spa and Wellness Retreat.
Spa Hours
Daily 10am - 6pm
Advanced Reservations Recommended & Based on Availability
Call (719) 538-4071